Global Truss originated over 10 years ago in Holland.
We specialize in high quality, aluminum and steel general purpose lighting and stage trussing designed for live stages, theatres, night clubs, church installations mobile applications.
We carry a large variety of truss products:
Square Truss
Triangular Truss
I-Beam Truss
Clamps
Box Truss
Circular Truss
Trade Show Booths
Exhibit Displays
Trussing Systems
Truss Kits
Aluminum Truss
Aluminum Truss Systems
Truss Totems
Retail Displays
Crank Stands
Junction Blocks
Aluminum:
Furniture, Tables, Chairs
Truss Corners
Light Stands
Lighting Stands
Sleeve Blocks
Winchs and Crank-up Stands.
Our truss bears the certification mark from TÜV, a third party certification body and a Nationally Recognized Testing Laboratory (NRTL), just like OSHA.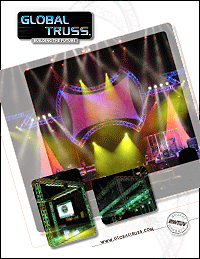 [ Global Truss Catalog ]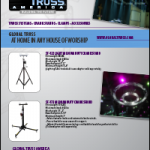 [Global Truss Worship ]