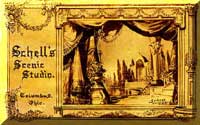 Gustav Jr. (Gus), and Herbert were most actively involved in the business. Gus started in the shop at the age of eight, cleaning paint brushes, and since graduation from high school worked in the theatrical industry. Herbert worked as a carpenter in the shop after graduation from high school in 1928. Then he left the company to become the first stage manager at the Ohio Theatre in Columbus. He held that position until 1956 when he assumed the position of stage manager at the newly opened Veterans Memorial Auditorium.
Gustav Schell Sr. was a charter member of IATSE Local 12. When he was not working in the studio, he was employed on various stages in Columbus as a stagehand. Herbert was a member of Local 12 and its business agent for 35 years. Gustav (Gus) Schell Jr. was a member of Local 12, as is his son, Philip.
When the studio opened, its inventory was primarily backdrops, draperies, and advertising curtains. Today, the studio offers not only one of the midwest's largest inventories of scenic backdrops but also offers a complete selection of theatrical equipment. As technology changes, so does the studio's inventory.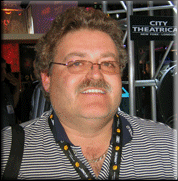 Philip, the third generation in the Schell Scenic Studio family tradition, believes in the philosophy of offering the customer courteous and personalized service.
The Schell Scenic Studio looks forward to carrying on the family tradition of offering fine quality products and service, established by our founder, to today's customers.