Rental Props
The following is just a sample of what we have to offer you. As it is nearly impossible to list all of our props in our expansive inventory, please call us. We also offer individual props and set pieces available for rent, for a select number of popular shows.
Grease Prop Car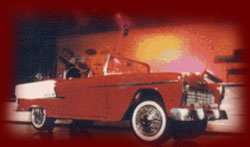 We have for rent a unique prop car for the show Grease!
Our 'Greased Lightnin', prop car is a 3/4 scale replica of a 1955 Chevy Bel-Air Convertible. It measures 148″ long by 55″ wide by 48″ tall. Due to its size and weight of 750 lbs., delivery and pickup is performed by our staff only.
The features are easily removable – front grill and driver's side trim, and hub caps. The front & rear bumpers are integrated steps, to dance on the car. The car has an onboard rechargeable battery, to power the horn and to illuminate the headlights.
To schedule an appointment to view it in person, please contact us.
Get more Info about renting our Grease Prop Car   <Click Here>